Knott Laboratory provides forensic engineering and animation, Civil & Structural, and Fire & Explosion Investigation services to reconstruct accidents.
---
Knott Laboratory featured in Investigative Documentary
The documentary is available on Amazon Prime
---
On an August night in 2014, Kevin Ward Jr., a rising star on the sprint car racing scene, was struck and killed during a race by NASCAR legend Tony Stewart.
The initial investigation found the fatality to be accidental and a grand jury opted not to indict Mr. Stewart on criminal charges. However, through a civil lawsuit, Knott Laboratory was engaged to perform a forensic analysis of the incident and develop a 3D reconstruction. The findings resulted in Mr. Stewart settling the lawsuit with the Ward family for an undisclosed sum.
THE HIT: An Investigative Documentary, directed by award-winning investigative journalist Chris Halsne, re-examines this incident through the eyes of science. Of the film, director Chris Halsne says, "One billion data points, analyzed by the world's leading forensic engineers, tells a damning, stunningly visual story."
Using a single video that captured the incident, Knott Laboratory's engineers were able to reconstruct the crash in a 3D environment with incredible accuracy. The film follows forensic engineers through this process, called Digital Media Forensics™, and reveals there was more to the incident than what was determined by the original investigation.
"Viewers can evaluate for themselves if they think the District Attorney made the right decision," says Stanley Stoll, CEO of Knott Laboratory, "but what should be learned through this case, is how photographs and videos can be placed back into scientifically accurate replications of any accident scene. When we are done, they look like something from a videogame, but they are real-world recreations of accidents and shooting incidents."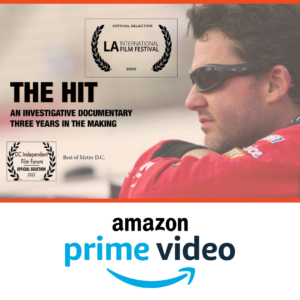 THE HIT: An Investigative Documentary is now available on Amazon Prime.