Knott Laboratory provides forensic engineering and animation, Civil & Structural, and Fire & Explosion Investigation services to reconstruct accidents.
---
Multiple specialists, ready for whatever your case requires.
---
Knott Laboratory combines multiple specialties to determine the facts of your case and clearly present them to a jury. Our team of forensic engineers, accident reconstructionists, and forensic animators are experts in translating complex data into a manner anyone can understand. Whether your case requires an analysis of a vehicle's black box, a structural investigation, or a complete interactive animation, we are your resource.
Every Knott Lab forensic engineer is a licensed, registered professional with experience in litigation. Through 40 years of work, our forensic engineers have evaluated thousands of cases and have been qualified as expert witnesses in state and federal courts.
Additionally, our Digital Media Forensics department specializes in pulling data from existing digital evidence to determine the timeline of events and highly specific factors of a case.
Click the image to view recent case examples.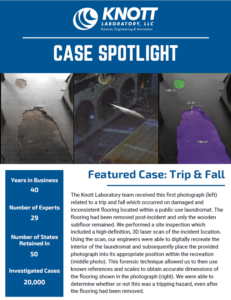 To discuss your case, please contact Bo Milberger at bmilberger@knottlab.com.