Our engineers have extensive experience with all types of motor vehicle accidents
---
Knott Laboratory has investigated thousands of motor vehicle accidents; from single vehicle roll-overs to multiple car pile-ups. While we have extensive experience with all types of motor vehicle accidents, no two accidents are the same. Knott Laboratory engineers are able to draw from their extensive experience to answer complicated questions and to identify key issues that need to be addressed through litigation.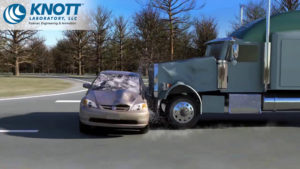 Knott Laboratory engineers have specialized training, education and experience to thoroughly and accurately investigate all types of motor vehicle accidents. We have access to state of the art technology and computing which help our engineers to accurately determine the speeds of the vehicles and their motion both before and after a collision. Knott Laboratory also has the ability to download a vehicle's "black box" which often contains valuable information related to the vehicle's speed and driver's actions in the moments just before impact. While accessing the black box data is helpful, it is the proper interpretation and analysis of all the available information that results in a thorough and accurate reconstruction.
Publications List
The experts at Knott Laboratory have been published in many engineering journals. While most of these essays are quite detailed, these short abstracts express a summary of the overall papers that were published.
---
Experts in the Field
Our forensic engineers are experts in accident reconstruction, failure analysis and cause & origin. Our forensic engineers work directly with our in-house animation department to create state-of-the-art forensic animations for use in court, arbitration, mediation or settlement negotiations.
---
View Samples of our Work
Since 1982, Knott Laboratory has been providing comprehensive forensic engineering and computer animation services to reconstruct accidents.
---
What others have to say about our work
---
High Profile Cases
Knott Laboratory has become the leader in forensic engineering and computer animation by investigating high profile cases and conveying our analysis effectively during litigation.
---