Knott Laboratory provides forensic engineering and animation, Civil & Structural, and Fire & Explosion Investigation services to reconstruct accidents.
---
Knott Laboratory reconstructs shooting incidents to assess whether reported observations were consistent with physical evidence.
---
Whether it is police body worn cameras, cruiser cams, helicopter footage, surveillance cameras, or smart phone cameras, more and more shooting incidents are being captured on video. Our forensic experts use the latest technologies and the science of photogrammetry to analyze these types of videos and extract the evidence they contain to reconstruct shooting incidents.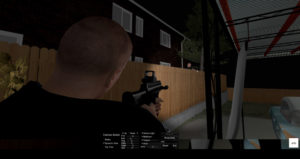 By combining the technologies of high-definition laser scanning and photo-scanning using drone aerial imagery, our experts are able to comprehensively capture a shooting scene and document all available evidence, with a high degree of accuracy, creating a 3D virtual model (point cloud) of the scene.
Our experts then use this point cloud model together with scientifically validated photogrammetric software to analyze the evidence depicted in the video and determine the position, orientation, speed, acceleration of vehicles, pedestrians and other objects within the shooting scene.
Publications List
The experts at Knott Laboratory have been published in many engineering journals. While most of these essays are quite detailed, these short abstracts express a summary of the overall papers that were published.
---
Experts in the Field
Our forensic engineers are experts in accident reconstruction, failure analysis and cause & origin. Our forensic engineers work directly with our in-house animation department to create state-of-the-art forensic animations for use in court, arbitration, mediation or settlement negotiations.
---
View Samples of our Work
Since 1982, Knott Laboratory has been providing comprehensive forensic engineering and computer animation services to reconstruct accidents.
---
What others have to say about our work
---
High Profile Cases
Knott Laboratory has become the leader in forensic engineering and computer animation by investigating high profile cases and conveying our analysis effectively during litigation.
---