---
Motion Capture (MoCap) is the process of recording the movement of people and is used in a variety of fields including forensic engineering and animation. Here is a demonstration of Knott Lab's marker-less motion capture studio. This MoCap technology allows us to capture and analyze human movement and apply that motion to computer-generated models, producing realistic human motion with a solid scientific foundation in our animations.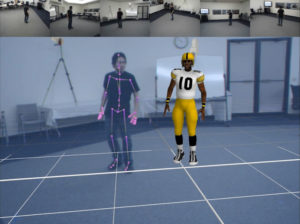 Experts in the Field
Our forensic engineers are experts in accident reconstruction, failure analysis and cause & origin. Our forensic engineers work directly with our in-house animation department to create state-of-the-art forensic animations for use in court, arbitration, mediation or settlement negotiations.
---
View Samples of Our Work
Since 1982, Knott Laboratory has been providing comprehensive forensic engineering and computer animation services to reconstruct accidents.
---
What others have to say about our work
---
High Profile Cases
Knott Laboratory has become the leader in forensic engineering and computer animation by investigating high profile cases and conveying our analysis effectively during litigation.
---