Trailer jack investigations often focus on the condition of the snap ring and whether or not it had been properly installed.
---
Trailer jacks are designed to withstand extreme vertical loading but are often subjected to unforeseen lateral loading conditions as the user attempts to maneuver the trailer onto or off of a trailer hitch. In many popular trailer jack designs, these lateral forces act on a single snap ring, or retaining ring, which holds the jack in place on the trailer. Failure of this snap ring could allow the tongue of a loaded trailer to fall to the ground, potentially injuring an unsuspecting user.
In cases in which a trailer jack becomes separated from the trailer, the investigation often focuses on the condition of the snap ring and whether or not it had been properly installed. Force analysis and exemplar testing can further determine the lateral loading conditions necessary to separate the trailer jack from the trailer.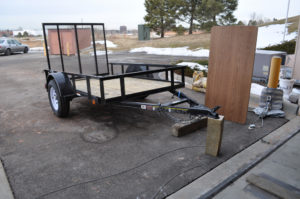 Publications List
The experts at Knott Laboratory have been published in many engineering journals. While most of these essays are quite detailed, these short abstracts express a summary of the overall papers that were published.
---
Experts in the Field
Our forensic engineers are experts in accident reconstruction, failure analysis and cause & origin. Our forensic engineers work directly with our in-house animation department to create state-of-the-art forensic animations for use in court, arbitration, mediation or settlement negotiations.
---
View Samples of our Work
Since 1982, Knott Laboratory has been providing comprehensive forensic engineering and computer animation services to reconstruct accidents.
---
What others have to say about our work
---
High Profile Cases
Knott Laboratory has become the leader in forensic engineering and computer animation by investigating high profile cases and conveying our analysis effectively during litigation.
---