Knott Laboratory provides forensic engineering and animation, Civil & Structural, and Fire & Explosion Investigation services to reconstruct accidents.
---
The science of obtaining accurate 3D measurements from photos
---
Photogrammetry places 2D photographs into a 3D space using the fundamental principle of triangulation. Key points within a photograph can be matched to the same points from other photographs, aerial imagery, a 3D laser scan, or an accurate 3D model to determine the orientation and placement of photographs. This process utilizes the information the photographs contain to get an accurate representation of 3D space. For example, if an accident reconstructionist or engineer wants to find out how much deformation a vehicle has sustained, Photogrammetry can get the precise data the engineer needs to strengthen his or her analysis and opinion.
By matching our 3D data to data in photographs, our team can determine the position of vehicles, the location of important evidence, and measurements of evidence, such as tire marks or gouge marks. This technique is essential in obtaining accurate information to prepare engineering analysis and demonstrate the accuracy of our data. Photo matching can also be used to create more realistic animations by animating 3D vehicles and objects over photographs.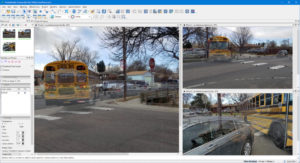 Experts in the Field
Our forensic engineers are experts in accident reconstruction, failure analysis and cause & origin. Our forensic engineers work directly with our in-house animation department to create state-of-the-art forensic animations for use in court, arbitration, mediation or settlement negotiations.
---
View Samples of our Work
Since 1982, Knott Laboratory has been providing comprehensive forensic engineering and computer animation services to reconstruct accidents.
---
What others have to say about our work
---
High Profile Cases
Knott Laboratory has become the leader in forensic engineering and computer animation by investigating high profile cases and conveying our analysis effectively during litigation.
---