Knott Laboratory provides forensic engineering and animation, Civil & Structural, and Fire & Explosion Investigation services to reconstruct accidents.
---
These accidents occur because the driver is either inattentive or the pedestrian is difficult to see.
---
Accidents involving vehicle and pedestrian are analyzed by Knott Laboratory. Typically these accidents occur because the vehicle driver is either inattentive, or the pedestrian is difficult to see, either due to clothing that the pedestrian is wearing, lighting available at the accident scene, or a combination thereof. Driver elements, such as perception reaction times (PRT) and expectancy of pedestrian location are also considered during accident reconstructions.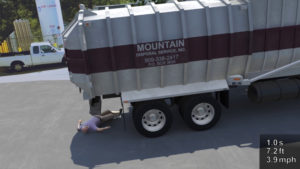 Night-time and day-time visibility studies carried out by Knott Laboratory help to determine accurate driver visibility of pedestrians at accident scenes. Night-time visibility studies consist of analysis of overhead lighting from street lights, as well as vehicle headlight illumination.
Publications List
The experts at Knott Laboratory have been published in many engineering journals. While most of these essays are quite detailed, these short abstracts express a summary of the overall papers that were published.
---
Experts in the Field
Our forensic engineers are experts in accident reconstruction, failure analysis and cause & origin. Our forensic engineers work directly with our in-house animation department to create state-of-the-art forensic animations for use in court, arbitration, mediation or settlement negotiations.
---
View Samples of our Work
Since 1982, Knott Laboratory has been providing comprehensive forensic engineering and computer animation services to reconstruct accidents.
---
What others have to say about our work
---
High Profile Cases
Knott Laboratory has become the leader in forensic engineering and computer animation by investigating high profile cases and conveying our analysis effectively during litigation.
---