Knott Laboratory provides forensic engineering and animation, Civil & Structural, and Fire & Explosion Investigation services to reconstruct accidents.
---
There are approximately 68,400 forklift accidents in general industry every year.
---
Forklifts are indispensible pieces of material handling equipment that facilitate the movement of goods in warehouses, retail and industrial environments. Forklifts routinely move goods safely and efficiently, however, forklifts are also frequently involved in accidents resulting in injury or death. The Occupational Safety and Health Administration has stated that there are approximately 68,400 forklift accidents in general industry per year. Knott Laboratory engineers have investigated forklift accidents involving tipover or stability related accidents, dropped loads, pedestrian collision accidents, stand-up or narrow aisle forklift accidents and rough terrain forklift accidents, among others.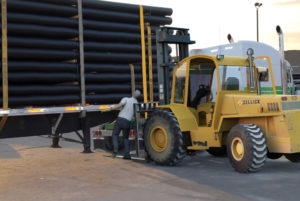 Our investigation of forklift accidents have ranged from the reconstruction of the accident to product liability evaluations for both plaintiffs and defendants. Knott Laboratory engineers apply physics based principles to the reconstruction of forklift accidents, and our mechanical, electrical, and safety engineering expertise to evaluate product liability claims.
Publications List
The experts at Knott Laboratory have been published in many engineering journals. While most of these essays are quite detailed, these short abstracts express a summary of the overall papers that were published.
---
Experts in the Field
Our forensic engineers are experts in accident reconstruction, failure analysis and cause & origin. Our forensic engineers work directly with our in-house animation department to create state-of-the-art forensic animations for use in court, arbitration, mediation or settlement negotiations.
---
View Samples of our Work
Since 1982, Knott Laboratory has been providing comprehensive forensic engineering and computer animation services to reconstruct accidents.
---
What others have to say about our work
---
High Profile Cases
Knott Laboratory has become the leader in forensic engineering and computer animation by investigating high profile cases and conveying our analysis effectively during litigation.
---