Forensic Engineering Investigations and Changing Fire Patterns
Do Fire Patterns Change Over Time?
---
Published February 20, 2018
By Stanley C. Stoll, M.Eng., P.E., CFEI, CVFI
Fire patterns are the identifiable shapes formed and left behind on the remnants of a fire and are essential to fire investigators when determining the origin and progression of a fire. Once the origin of a fire has been established, the cause of the fire can be evaluated. But, what if the fire patterns change with time?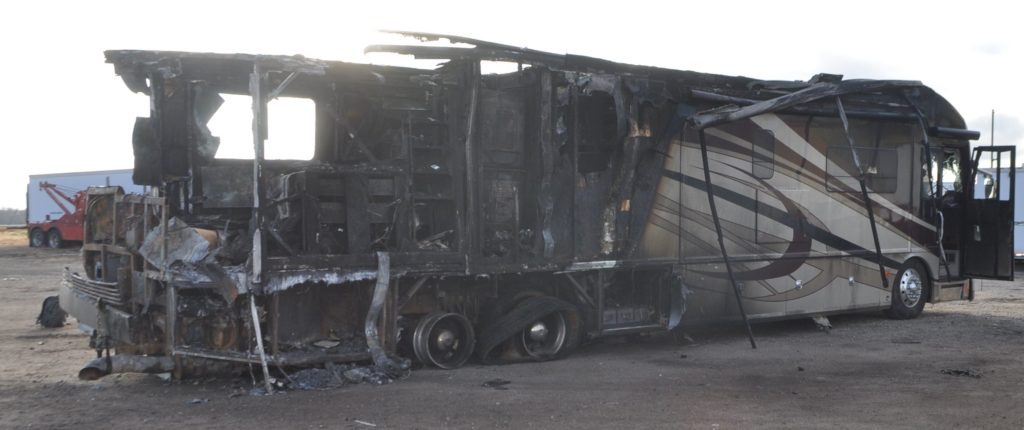 There are many types of fire patterns such as charring, material loss, melting, and oxidation which can be used to define an area of origin. Oxidation, in fires, is caused by the heating of steel components. The iron within the steel oxidizes and changes color and appears as rust. Oxidation patterns can be very useful because they not only indicate areas of high heat, but can also indicate heat differentials. However, oxidation patterns can increase and change with time and exposure to moisture and oxygen. It is very useful to inspect fire scenes with oxidized steel soon after a fire has occurred.
For example, Knott recently inspected a combination RV and jeep fire in November of 2016, approximately ten days after the fire had occurred. Through fire pattern and fire progression analysis, Knott determined the fire started low on the rear driver's side of the RV adjacent to the engine. Knott's origin determination was largely dependent on the oxidation patterns soon after the fire as they were low to the ground and upwind of the more damaged passenger's side. Within this origin, Knott identified a leaking transmission line that was dripping on the adjacent hot exhaust and it was this transmission fluid that caught fire.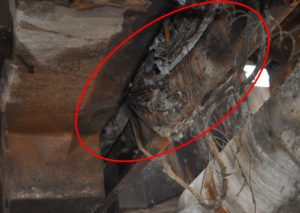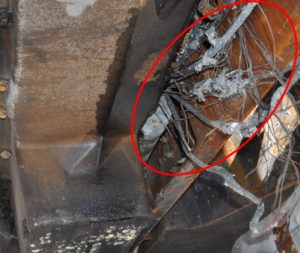 In March of 2017 (approximately 4 months after the fire), multiple parties performed another inspection of the vehicle.  By this point, the oxidation throughout the underside of the vehicle was more pronounced.  Many of the other investigators determined the area of origin was near the electrical components in the right photograph above and not near the exhaust on the opposite side of the engine.  Knott then provided the additional photographs to those investigators, including the one on the left above from the initial 2016 inspection.  Once reviewing these photographs, all investigators updated their origin of the fire to match ours.  Thus, it was determined that the fire was indeed caused by the leaking transmission line and our client fully subrogated their claim.
In conclusion, inspection of fire scenes should be performed as soon as possible after a fire to minimize alterations of the fire patterns.  Reducing the time until the inspection, can greatly impact the accuracy of the overall investigation.  When a quick inspection is not possible, and time has progressed, consideration of the effects of environmental exposure on fire patterns must be considered.